Providing secondary school students in the Nelson Bays region with the opportunity to sail and enhance their skills in a teams racing environment
October 19, 2022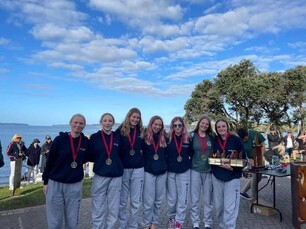 A huge congratulations to Nelson College for Girls for winning at the Secondary Schools Team Sailing National Championships. They sailed hard and fast and took home the Girls National Championship title and the Girls Interdominion Championship. Well deserved and we couldn't be more proud....
read more
Sunday Race Schedule Update
Posted 8 Nov 2022.
We've made some changes to the Sunday race schedule to move the start time back by 1 hour to 11am and to split the larger squads into 2 even teams (NOT A&B teams). These changes mean we get more sailing (better breeze later in the day), and it means everyone gets to learn off each other. This new schedule will be effective from this Sunday 13th November through to the end of the term.
RACE SCHEDULE FOR THE REMAINDER OF TERM 4:
11am - 2pm: Garin, Nayland 1, Girls 1 and Waimea 1
2.30pm - 5.30pm: Boys, Nayland 2, Girls 2 and Waimea 2.
Open Day
All Welcome! Sunday 16th October is our Open Day. Come along to the Nelson Yacht Club at 10am to give it a go and meet the teams. We look forward to meeting you there!
THANK YOU TO OUR SPONSORS
Team Sailing Nelson Bays is a non-profit organisation
"I love the challenge and strategy of teams sailing. Fun times, good friends, fast 420's and opportunities I would not have dreamt of"
Ella Arnold - NCG captain 2021/22